1610 Pelham Road South
Jacksonville, Alabama 36265

Welcome to VinceConnCorvette.com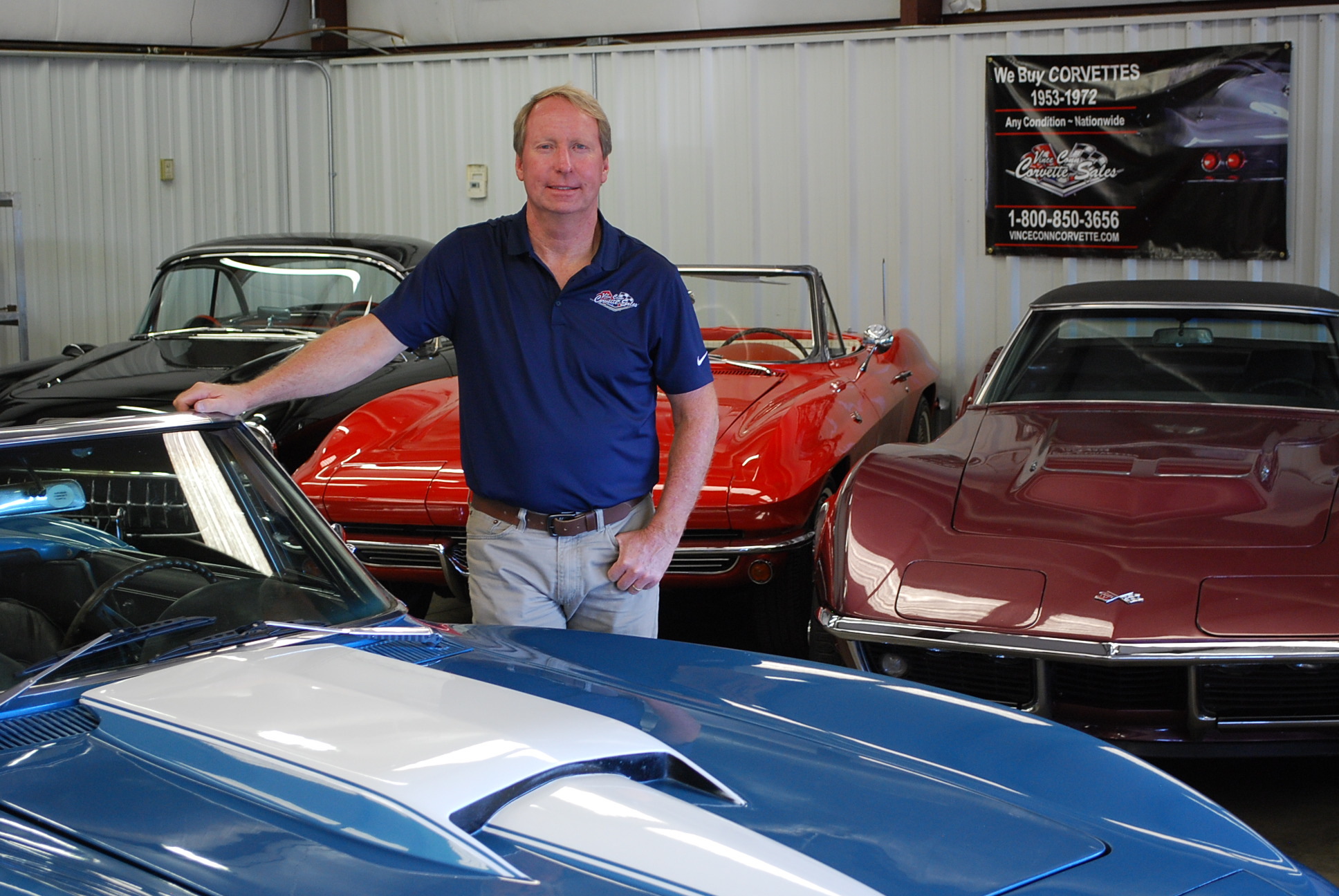 October 21, 2016
Vince Conn started his corvette business in the late 1980s. Growing up, like many young men during the late 60s and early 70s, he always wanted a corvette but was never able to afford one. Vince was a trained machinist with a good job in his hometown of Jacksonville. His corvette ownership dream was realized when he purchased his first wrecked 1975 model. Unfortunately, he and a group of machinist were laid off at that time from the machine shop. He spent many hours over the next few weeks laboring to repair the corvette back to like-new condition. Before he could enjoy riding around in his restored 1975 corvette someone offered to buy it for a profit. He sold the corvette. Then he bought and repaired another wrecked one with the same outcome. Before he knew it his corvette business was born. He was called back to return to work a few months later at the machine shop. It was then he decided to start his own business called Vince Conn Corvette. Almost 30 years later, his business has grown from those early days buying and rebuilding wrecked corvettes to now buying over 100 Corvettes a year from all across the country.
Vince Conn is among the nation's leaders in the Classic Corvette Business. He focuses on buying inventory from all across the United States. He started in those early days, before the internet, running "Corvette Wanted" ads in auto traders and newspaper classifieds looking to buy corvettes. Now, he advertises with a series of national television commercials during some of the most popular car shows on networks like Velocity, Discovery and national auto auctions, like Barret-Jackson and Mecum. A new and improved website www.vinceconncorvette.com makes it easy for people to fill out a form to submit their Corvette they want to sell. He is also just a toll free phone call away at 1-800-850-3656 and through email at vince@vinceconncorvette.com. His goal is to make the selling process of a Corvette easy and hassle free. The advantage of dealing with Vince is being able to speak directly to him at any time. These days with advanced technology he is literally a click or a phone call away. This can bring a level of confidence to individuals who might not have a lot of experience in the retail world of selling cars. The majority of the time people will tell him their Corvette has just been sitting in the garage, it does not get driven a lot, maybe the battery has died, the brakes have gone bad or they have a pristine top flight judged corvette but do not want the hassle of tire kickers without money. This is what he specializes in doing; he buys 1953-1972 corvettes, in any condition, competitively, in a courteous and convenient manner. His professionalism is his top priority.
Vince's shop is located on the corner of George Douthit Drive and Pelham Road S on Highway 21 in small town Jacksonville, Alabama. He buys cars weekly from Corvette owners all across the United States. If he does not travel to buy the corvette in person he will have transporting companies deliver the Corvettes to his shop. In his shop, he will make any mechanical adjustments and bring the Corvettes to another level with cosmetic detailing. The days of taking wrecked corvettes all apart and restoring them are in his past. If the cars come in with body damage they usually get sold with body damage. He is truly a one man business operation doing most all the work himself, from buying, traveling, detailing and advertising.
VinceConnCorvette.com is always evolving and looking toward the future for new ways of growing in the classic corvette industry. He is gearing up for the fall/winter buying season. This time of year can be a busy time with people looking to sell their corvettes before needing to store them for the winter. He is always looking to buy 1953-1972 corvettes in any condition, from projects to premiums, nationwide. Next week, he is getting ready for Maria Prekeges to film a segment for a new show debuting in January called "Corvettes Coast to Coast." Stay tuned for all the latest happenings with vinceconncorvette.com. Make sure to like him on Facebook and check out all the latest new arrivals for Corvettes for Sale.