1610 Pelham Road South
Jacksonville, Alabama 36265

Sunday Afternoon Film Shoot at VinceConncorvette.com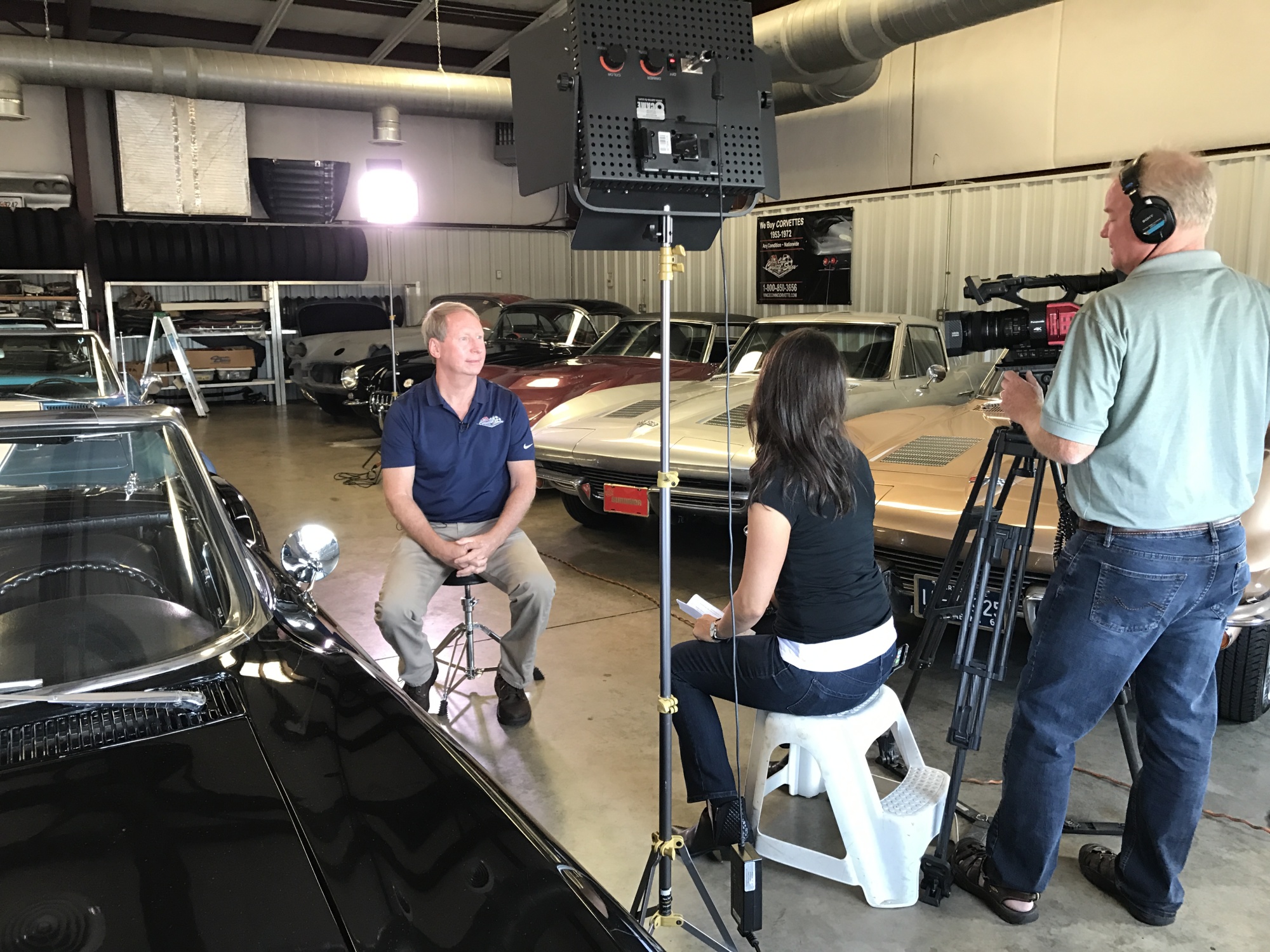 October 31, 2016
Back in the early summer Vince was selected for the opportunity to be a sponsor for a new 13 episode original series called "Corvettes Coast 2 Coast" which will be airing beginning January of 2017 on Velocity, MAVTV and REV'N channels. The show will be hosted by Bill Stephens (Mecum Auctions, ESPN, IHRA) and Maria Prekeges (USA Rugby, National Finals Rodeo, PBR) This series is following the very successful 2 seasons of Discovery's Velocity Channel's #1 rated television series called "Corvette Nation." This new series will feature America's favorite sports car Chevrolet Corvette. "Corvettes Coast 2 Coast" will bring even more unique locations (like small town Jacksonville, Alabama) introduce more corvette enthusiast (like Vince Conn) and convey much more about Corvettes from coast to coast, all across the country. With the additional two broadcast channels MAVTV and REV'N, we are thankful for the opportunity to be a part of the even bigger and better "Corvettes Coast 2 Coast!" The new show will also integrate a new interactive website and a full social media platform to promote events, post pictures and videos, and interact with viewers, followers and sponsors.
Maria Prekeges and Camera Man Mike stopped by the shop yesterday to film a segment for the new show. Maria and Mike were two of the most delightful people we have had the opportunity to meet! They were so professional and just simply great to work with. The whole process went smoothly thanks to them! Maria's friendly personality, which we have seen on TV shows, was even better in person! She made us feel at ease right away. Vince's interview with her went effortlessly just like they had known each other for years. Mike set up great camera shots, worked with the lighting and navigated our somewhat noisy location with ease. The whole experience with Maria and Mike could not have gone any better!
First they attached a microphone to Vince. They framed him in front of the line of corvettes, from the 1960 project car, 1969 driver condition big block, to the Survivor and Top Flight 1963 split windows. Maria interviewed him with questions like "why corvettes?" He explained that his love of Corvettes started during his first ride in a 1970s model when he was in high school. He explained that after he fixed his first wrecked corvette, someone offered to buy it and that is how his whole business began almost 30 years ago. He was able to explain to Maria the biggest question he gets asked most often which is how the whole process works. He talked about when corvette owners find him through any of our television or newspaper advertisements or the internet, they will call in or fill out the short form on his website, and then send digital pictures. He will then decide to purchase the cars, then payment is made and pick-up and delivery is done quickly thereafter. He explained how fast it can all seem to happen to the corvette owners but that this is what he does every day so he has become efficient at the process. My favorite part of Maria's whole interview is when he described that the in the corvette business he works all the time, from daylight to dark, Monday through Sunday, and that we have to be ready to leave at any moment when a corvette gets called in. He talked about that there are still rare corvettes out there to be found and he has had such like a one owner L88, L89, and Split Window Coupes with Air. His passion for these Corvettes and what he does was really revealed talking to Maria.
We are excited for the opportunity to be a part of this new show "Corvettes Coast 2 Coast." Our goal with this segment is to reach Corvette owners all across the country who are looking to sell their 1953-1972 Corvettes in any condition, projects to premiums. Vince Conn is always looking to buy Corvettes. He is a man you can trust to provide a service that is quick, hassle free and just a click or phone call away at 1-800-850-3656.
As always, stay tuned for all the latest happening at VinceConnCorvette.Com, check us out on Facebook and view the latest new arrivals with our Corvettes for Sale.

Written by Katherine Conn