1610 Pelham Road South
Jacksonville, Alabama 36265

Examples of Corvette Inventory VinceConnCorvette.com Purchases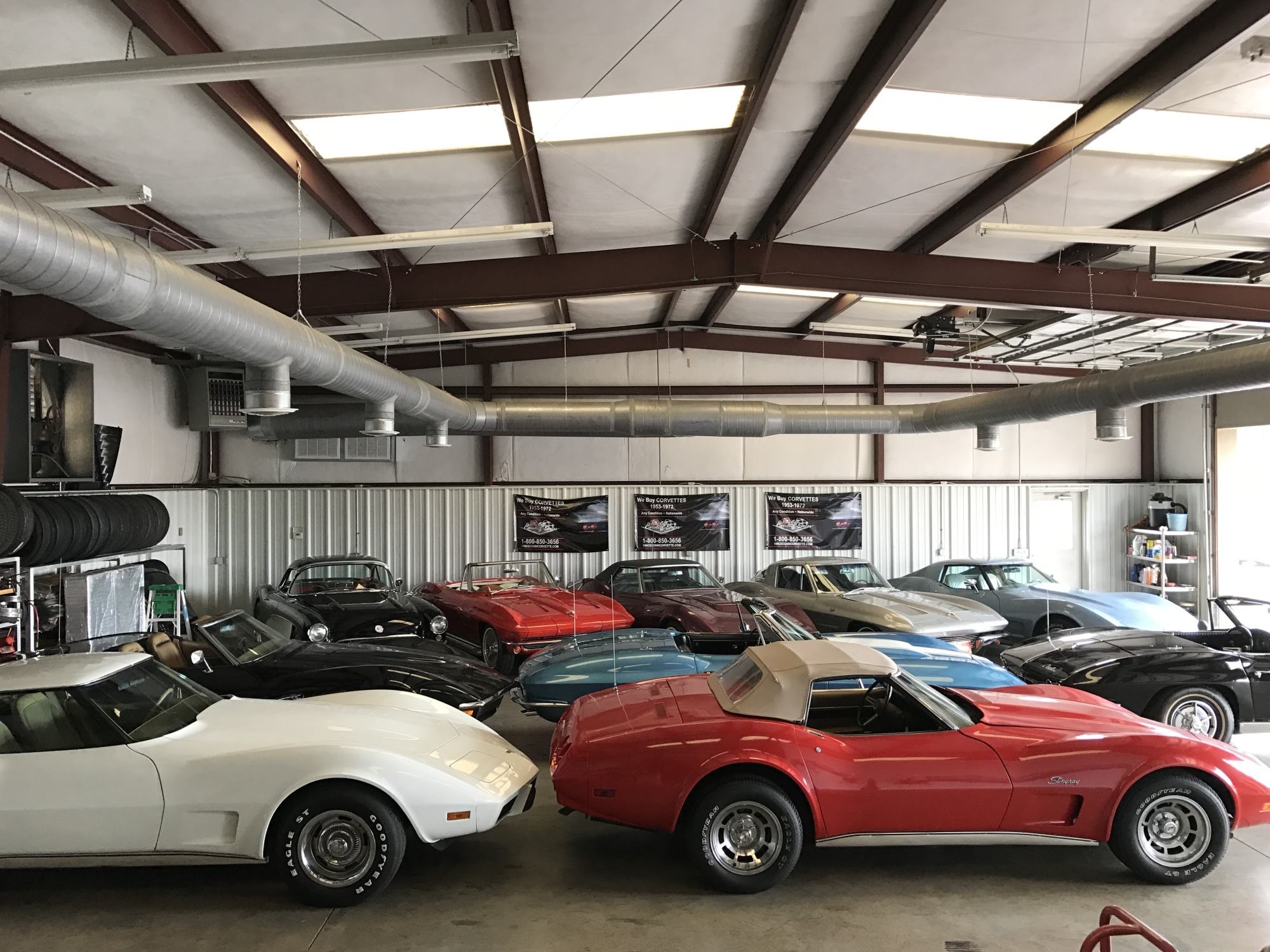 October 28, 2016
Our shop if full this week of different year model corvettes. These are perfect examples of corvettes that we are always looking to buy. There is everything from award winning premium corvettes, several driver quality condition and even a later model low mileage pristine condition corvette. Listed below is a short description of a few of the corvettes.
The 1963 Survivor is a Corvette that we personally travelled to Michigan to purchase and haul enclosed ourselves back to the shop. This corvette has been judged and has earned a Survivor Award meaning it is unrestored, still in its original factor condition. It comes with a binder full of documented owner history as well as receipts and other paperwork. This car has been meticulously maintained and very well cared for over the last 53 years.
The 1956 Black with Red interior convertible definitely wins the People's Choice Award. Everyone who comes into the shop comments of how beautiful the color combination is. This particular Corvette has had its factory original engine replaced with a late model LS engine. The late model engine gives the dependability while still having the classic "round back' corvette exterior.
The 1969 Big Block convertible is Burgundy with black interior. It has a numbers matching 427-390 HP engine with a 4 speed transmission. It is a steel bumper car. It is a solid driver quality car that runs and drives nice. It has a solid frame and body.
The only kind of corvette not shown in this group of cars is a true down and dirty project car. An example of the kind of project that is more work to load all the boxes of parts and pieces than it is to load the rolling frame and body. There are also those kinds of projects that have four mismatched wheels, which are usually flat, and a layer of dust so thick the true color of what the corvette use to be is unknown. We buy these kinds of projects too!
Even though we primarily buy the 1953-1972 model Corvettes, we are always interested in a few later models that have extremely low mileage like the 1977 white with Camel cloth interior Corvette. This Corvette is in pristine condition for its age. It has 37,450 original miles. It has a 350 engine with 180 HP automatic transmission. The air conditioning blows cold. The windshield fluid even squirts out of the wipers! This is a great car to take the T-tops out and cruise around town.
Next week we will be updating our Facebook page with more pictures of past and current Corvettes. Stay tuned for all the latest happenings with vinceconncorvette.com and check out all the latest new arrivals for our Corvettes for Sale.

Written by Katherine Conn